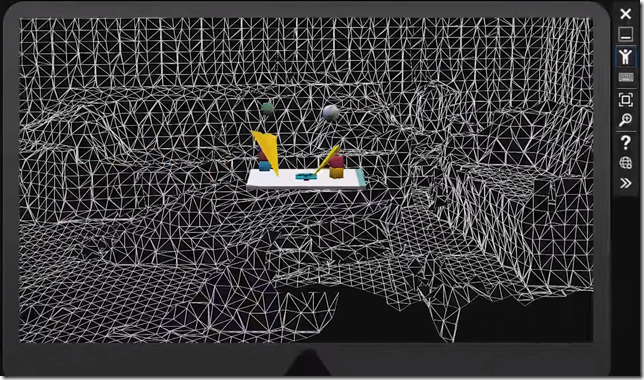 Microsoft is releasing an avalanche of information about HoloLens this week. Within that heap of gold is, finally, clearer information on the actual hardware in the HoloLens headset.
I've updated my earlier post on How HoloLens Sensors Work to reflect the updated spec list. Here's what I got wrong:
1. Definitely no internal eye tracking camera. I originally thought this is what the "gaze" gesture was. Then I thought it might be used for calibration of interpupillary distance. I was wrong on both counts.
2. There aren't four depth sensors. Only one. I had originally thought these cameras would be used for spatial mapping. Instead just the one depth camera is, and it maps a 75 degree cone out in front of the headset, with a range of 0.8 M to 3.1 M.
3. The four cameras I saw are probably just grayscale cameras – and it's these cameras along with cool algorithms that are being used to do inside-out position tracking along with the IMU.
Here are the final sensor specs:
1 IMU
4 environment understanding cameras
1 depth camera
1 2MP photo / HD video camera
Mixed reality capture
4 microphones
1 ambient light sensor
The mixed reality capture is basically a stream that combines digital objects with the video stream coming through the HD video camera. It is different from the on-stage rigs we've seen which can calculate the mixed-reality scene from multiple points of view. The mixed reality capture is from the user's point of view only. The mixed-reality capture can be used for streaming to additional devices like your phone or TV.
Here are the final display specs:
See-through holographic lenses (waveguides)
2 HD 16:9 light engines
Automatic pupillary distance calibration
Holographic Resolution: 2.3M total light points
Holographic Density: >2.5k radiants (light points per radian)
I'll try to explain "light points" in a later post – if I can ever figure it out.