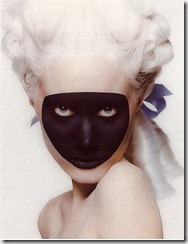 The 'Mysterious Stranger' is a stock device in literature.  Poe's main character in The Masque of the Red Death is one instance of the theme.  Mark Twain left us an unfinished novel built around another.  An unexpected guest is central to one of the earliest works in English literature, Sir Gawain and the Green Knight.  In Plato's late dialogues, Socrates is replaced by the more enigmatic Xenon or Stranger. The old testament is populated by mysterious guests who turn out to be angels.  The Venetian Carnival always potentially allowed commoners to mix with royalty since everyone was in disguise.  Middle Eastern literature is filled with Tufaylîs or 'unexpected guests' who would provide additional entertainment to any party should they be allowed over the threshold.  Medieval troubadours appear to have filled the same function in the West.
At the recent MIX 2011 keynotes in Las Vegas, amidst announcements about HTML5, IE9, ASP.NET MVC 3.x, Silverlight 5, Windows Phone Mango and the Kinect SDK, WPF made such an appearance.  It was never called out, as such, but as each Kinect demo was presented on stage, WPF aficionados were beaming because they recognized their old friend behind the Kinect mask.
Why WPF?  Because WPF is the natural workhorse for NUI development.  From Kinect hacks to multi-touch displays to Surface technology, it is again and again the technology of choice providing both native integration with low level touch messages on the host OS as well as a powerful programming idiom.  For many of us, it was the technology we learned to do MVVM on.  We get to use the full resources of the .NET Framework with it as well as the ease of development provided by Visual Studio and Blend.
And if we are at the beginning of a NUI renaissance, as my friend Corey Schuman suggests in his MIX presentation, it follows that we are also in the midst of a WPF Renaissance as, for now, NUI and WPF are closely bound together.
To add sauce to the goose, over the weekend Rob Relyea from the WPF team tweeted the following elliptical comment:
"Yesterday wpf team had champagne/sparkling cider at our all hands meeting. Reached significant milestone."
As pleased as I was with the Kinect demos at MIX, this piece of messaging took me completely by surprise.  There are still WPF milestones?  The Microsoft Tufaylîs are indeed gifted at entertaining and delighting.