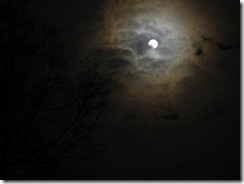 Perhaps it happened with the advent of sound in movies — or perhaps with the mass reproduction of music — but it is not uncommon for people to feel an attachment towards a certain piece of music which, over time, becomes the soundtrack for their lives.  In my case, the soundtrack is Curtis Mayfield's Superfly, though Isaac Hayes's Shaft will do in a pinch.  (I will defer the topic of my desire to be a powerful and confident black man for another post, but surely I am not the only one…) 
The pertinent point here is that music is one of the modern world's most prevalent therapeutic techniques for controlling and guiding emotions.  To use more archaic concepts, it is a modern tool for building character — or even spirit.  In his second critique, Kant lauds the reading of Roman histories as a way to build the moral sensibilities of young boys.  And in later times poetry seems to have served the same purpose.  Perhaps it is revealing too much, but before every interview or important meeting, I like to recite to myself the immortal words of Wallace Stevens:
Call the roller of big cigars,
The muscular one, and bid him whip
In kitchen cups concupiscent curds.
Let the wenches dawdle in such dress
As they are used to wear, and let the boys
Bring flowers in last month's newspapers.
Let be be finale of seem.
The only emperor is the emperor of ice-cream.
Actually, what I recite to myself is "I am the emperor of ice-cream, I am the emperor of ice-cream …" which after a few repetitions fills me to bloating with confidence.  Why this is, I cannot say.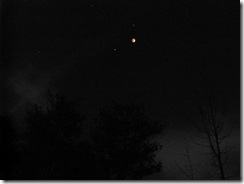 The moon — once worshipped by pagans across the world; to whom the ancient Egyptians are said to have offered human sacrifices — provided a wonderful display this past Wednesday.  The last full lunar eclipse visible from Earth until 2010, it was the occasion for a party in our household.  We invited some friends from down the street to peer at the moon through our Edmund Scientific Astroscan Newtonian reflector telescope, for which we recently acquired a tripod and a 100X magnification lens.  This eclipse was noteworthy in that the moon was positioned in proximity to Saturn, whose rings we could finally see with the new lens. 
This recent party was not as formal an affair as the one we threw for the March 3rd, 2007 lunar eclipse.  That one involved many more guests, and moon inspired refreshments.  Moon pies, moon cakes, Blue Moon beer, naturally, and mojitos, a cocktail said to have been favored by the older Hemingway and, for our purposes, beginning with the same letters as "moon."  It was also a bit different from the way I saw a lunar eclipse as a child in the early seventies from Southeast Asia, where we placed a mirror in a shallow bowl of water in order to view the astronomical event. 
To this day I do not know whether this was meant to enhance the viewing in some way, or whether it was the result of some local superstition about not looking directly at the moon.  In Greek mythology, Actaeon was transformed into a stag and killed by his own hounds when he happened to espy Artemis, twin to Apollo and goddess of the moon, bathing in a pool.  As mentioned above, we used a reflector telescope rather than a refractor telescope to view the moon, and so are unlikely to suffer a similar fate.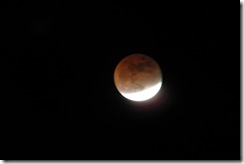 If you've never seen a lunar eclipse, I encourage you to leave your houses in 2010 to see this strange phenomenon.  Over a period of about an hour, the moon is slowly consumed by a black shadow.  And as parts of it disappear the remaining part, shrinking like the evaporating smile of the Cheshire Cat, seems to shine even brighter.  Just as the moon looks like it will disappear completely, a sudden transformation occurs, and instead of looking at a dark sky, the shadow covering the moon becomes semi-transparent, and one instead sees a tinted moon.  In the most recent eclipse, the moon was tinged with a coppery hue for about half an hour.  Then slowly, a bright light proceeds across the moon's face, until she is restored to her original fullness.
Just as we might each have a personal soundtrack, the moon also deserves her own.  This is the music I compiled for the 2007 party, and brought out again for the 2008 affair (should you have any suggestions for enhancing this playlist, I would enjoy hearing from you):
Debussey's Clair de lune — performed by Yakov Flier
Beethoven's Moonlight Sonata — performed by Vladimir Ashkenazy
Rusalka: O Silver Moon — performed by Renee Fleming
That's Amore — Dean Martin
Shine On Harvest Moon — Leon Redbone
Mountains of the Moon — Grateful Dead
Catch the Moon — Lisa Loeb and Elizabeth Mitchell
Bad Moon Rising — Creedence Clearwater Revival
Shoot the Moon — Nora Jones
By the Light of the Silvery Moon — Ray Noble
Moon Over Bourbon Street — Sting
Harvest Moon — Neil Young
Fly Me to the Moon — Astrud Gilberto
Old Devil Moon — Frank Sinatra
Blue Moon — Cowboy Junkies
Pink Moon — Nick Drake
Moondance — Van Morrison
Reaching for the Moon — Ella Fitzgerald
Oh You Crazy Moon — Chet Baker
Moonage Daydream — David Bowie
It's Only a Paper Moon — Benny Goodman and his Orchestra
The pictures above, by the way, were taken of the February 20th lunar eclipse from our backyard, somewhere in the suburbs of Atlanta, Georgia.  The third picture was taken by pressing the lens of a digital camera against the view lens of our telescope.  It was then photoshopped to correct for the inversion that the reflector telescope inevitably causes.