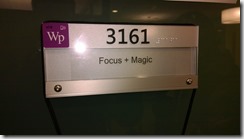 In my last post, I discussed the incredible work being done with augmented reality by Magic Leap. This week I want to talk about implementing augmented reality with projection rather than with glasses.
To be more accurate, varieties of AR experiences are often projection based. The technical differences depend on which surface is being projected on. Google glass projects on a surface centimeters from the eye. Magic Leap is reported to project directly on the retina (virtual retinal display technology).
AR experiences being developed at Microsoft Research, which I had the pleasure of visiting this past week during the MVP Summit, are projected onto pre-existing rooms without the need to rearrange the room itself. Using fairly common projection mapping techniques combined with very cool technology such as the Kinect and Kinect v2, the room is scanned and appropriate distortions are created to make projected objects look "correct" to the observer.
An important thing to bear in mind as you look through the AR examples below is that they are not built using esoteric research technology. These experiences are all built using consumer-grade projectors, Kinect sensors and Unity 3D. If you are focused and have a sufficiently strong desire to create magic, these experiences are within your reach.
The most recent work created by this group (led by Andy Wilson and Hrvoje Benko) is a special version of RoomAlive they created for Halloween called The Other Resident. Just to prove I was actually there, here are some pictures of the lab along with the Kinect MVPs amazed that we were being allowed to film everything given that most of the MVP Summit involves NDA content we are not allowed to repeat or comment on.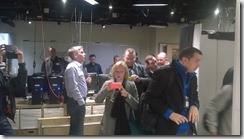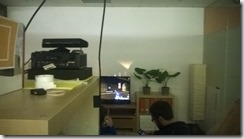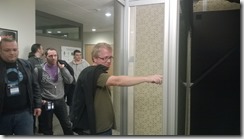 IllumiRoom is a precursor to the more recent RoomAlive project. The basic concept is to extend the visual experience on the gaming display or television with extended content that responds dynamically to what is seen onscreen. If you think it looks cool in the video, please know that it is even cooler in person. And if you like it and want it in your living room, then comment on this thread or on the youtube video itself to let them know it is definitely an M viable product for the XBox One, as the big catz say.
The RoomAlive experience is the crown jewel at the moment, however. RoomAlive uses multiple projectors and Kinect sensors to scan a room and then use it as a projection surface for interactive, procedural games: in other words, augmented reality.
A fascinating aspect of the RoomAlive experience is how it handles appearance preserving point-of-view dependent visualizations: the way objects need to be distorted in order to appear correct to the observer. In the Halloween experience at the top, you'll notice that the animation of the old crone looks like it is positioned in front of the chair she is sitting on even the the projection surface is actually partially extended in front of the chair back and at the same time extended several feet behind the chair back for the shoulders and head.  In the RoomAlive video just above you'll see the view dependent visualization distortion occurring with the running soldier changing planes at about 2:32".
You would think that these appearance preserving PDV techniques will fall apart anytime you have more than one person in the room. To address this problem, Hrvoje and Andy worked on another project that plays with perception and physical interactions to integrate two overlapping experiences in a Wizard Battle scenario called Mano-a-Mano or, more technically, Dyadic Projected Spatial Augmented Reality. The globe at visualization at 2:46" is particularly impressive.
My head is actually still spinning following these demos and I'm still in a bit of a fugue state. I've had the opportunity to see lots of cool 3D modeling, scanning, virtual experiences, and augmented reality experiences over the past several years and felt like I was on top of it, but what MSR is doing took me by surprise, especially when it was laid out sequentially as it was for us. A tenth of the work they have been doing over the past two years could easily be the seed of an idea for any number of tech startups.
In the middle of the demos, I leaned over to one of the other MVPs and whispered in his ear that I felt like Steve Jobs at Xerox PARC seeing the graphical user interface and mouse for the first time. He just stroked his beard and nodded. It was a magic moment.