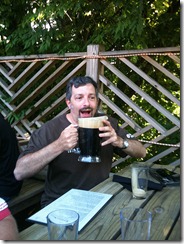 It's taken a few weeks to catch my breath after ReMIX Atlanta.  Most people have been asking if it was stressful to organize an event like this.  The truth is it was exhilarating.
Glen Gordon, Senior Developer Evangelist for Microsoft (pictured above imbibing the fruits of his labor after the event) has a good wrap-up here.  You can see the full set of ReMIX photos here.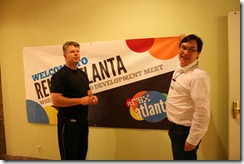 In the past, ReMIX events have also been held in Boston and Chicago.  This year ReMIX Atlanta was the only ReMIX (an event based on MIX content and following MIX) in the US, so we have taken to calling it ReMIX USA.  Worldwide, there are also ReMIX events being hosted in Moscow, Paris, Seoul, Melbourne and London.
Our sponsors were amazing.  I can't tell you how important an early response from sponsors means to the health of an event – as well as their willingness to set aside their typical invoice+60 policies in order to make money available. This early money is the life-blood of a conference – it establishes the scope of the event as well as morale for an event.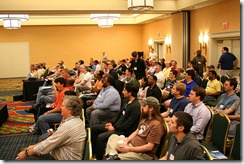 The vast majority of our sponsors contributed at the Platinum level – which means they gave us the maximum amount of money we were asking for.  Above and beyond that many also contributed software licenses, swag, and their time at the event.  Intellinet provided volunteers to check badges at the doors. Slalom flew out Nikki Chau to speak.  Microsoft flew out Brandon Watson to be our keynote speaker (Celia Dyer posted her video interview with Brandon for techdrawl here). DevExpress flew out Mehul Harry who is an amazing guy. 
Here is our full list of sponsors: Matrix, Veredus, Dunn Training, Agilitrain, EventVolt, Wintellect, Slalom, Intellinet, Magenic, Microsoft, DevExpress, Telerik, First Floor, Infragistics, Sagepath, AWDG, IxDA.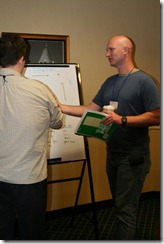 Special mention should be made of EventVolt.  This is the brainchild of Patrick Nickles, an entrepreneur new to the Atlanta area.  He contacted us just a few days before the event and offered to wire up power for the audience so they could plug in their laptops.   He has his own rig to do this.  He even had a rig for hooking us up with WIFI. His business idea is simply to help out with conferences by doing a lot of this technical plumbing work that hotels and other venues are not set up to do.  His initial email was basically – "I don't expect anything back.  Just let me set up something cool for you and I'll stay out of your way."  Needless to say, this is an event organizer's dream.
Thanks also go out to the speakers.  Many travelled to get to us – Brandon, Jonathan, Wally, Todd and Nikki.  All were amazing.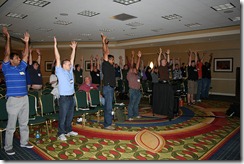 Our full list of speakers is: Brandon Watson, Virginia Cagwin, Rob Cameron, Nikki Chau, James Chittenden, Dennis Estanislao, Sean Gerety, Jonathan Marbutt, Wallace McClure, Todd Miranda, Zachary Pousman, Corey Schuman and Shawn Wildermuth.  We had a scary moment when Steve Porter called us early on Saturday morning and turned out to be incredibly sick.  Corey Schuman was able to fill in at the last minute to do his talk on Windows Phone 7 and Expression Blend.
Thanks should also go out to the organizers.  For what it is worth, organizing an event ultimately comes down to bringing the right people together and letting then run with their ideas.  One assumes that by maintaining a high energy level and firing on all pistons, everyone will be at their best.  One then crosses one's fingers and hopes that the right people have been brought in.  At ReMIX USA, this was the case.  Everyone pitched in when they saw a gap.  Everyone excelled at whatever became their responsibilities.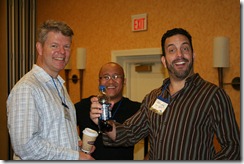 The main organizers of ReMIX were James Ashley, Dan Attis, Dennis Estanislao, Sean Gerety, Cliff Jacobson, Corey Schuman and David Steyer.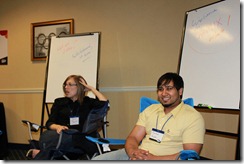 And then there are all the people who, like Patrick Nickles, simply pitched in and asked for no thanks.  I will do a great disservice at this point by not remembering everyone who helped out in this way.  However, at the risk of ignoring many contributors by naming the few, I'd like to thank Linda Gerety, Sergey Barskiy, Jessie and Jason Rainwater, Jay Cornelius and Farhan Rabbi.