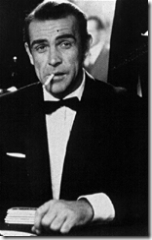 Ian Fleming's spy novels are often compared to John Le Carré's. The comparisons often find James Bond to be wanting. In contrast to the emotional richness of Le Carré's internally conflicted heroes, Bond is often presented by his critics as a cardboard cutout with an overly simplistic view of the world. Bond fights for crown and country. Alec Leamas and George Smiley, on the other hand, realize that things are much more complicated than that. Fleming presented a 50's version of the world where we all had just left off making the world safe for democracy, and still naively saw the cold war in black and white terms. Le Carré, on the other hand, by drawing attention to the moral ambiguity at the heart of our conflict with the Soviets, turns James Bond on his head.
Or does he? Written in 1953, ten years before The Spy Who Came In From The Cold, Ian Fleming's first Bond novel Casino Royale includes this surprising piece of introspection from 007:
"Well, in the last few years I've killed two villians. The first was in New York — a Japanese cipher expert cracking our codes on the thirty-sixth floor of the RCA building in the Rockefeller centre…. It was a pretty sound job. Nice and clean too. Three hundred yards away. No personal contact. The next time in Stockholm wasn't so pretty. I had to kill a Norwegian who was doubling against us for the Germans…. For various reasons it had to be an absolutely silent job. I chose the bedroom of his flat and a knife. And, well, he just didn't die very quickly.
"For those two jobs I was awarded a Double O number in the Service. Felt pretty clever and got a reputation for being good and tough. A Double O number in our Service means you've had to kill a chap in cold blood in the course of some job.
"Now," he looked up again at Mathis, "that's all very fine. The hero kills two villians, but when the hero Le Chiffre starts to kill the villain Bond and the villain Bond knows he isn't a vilain at all, you see the other side of the medal. The villains and heroes get all mixed up.
"Of course," he added, as Mathis started to expostulate, "patriotism comes along and makes it seem fairly all right, but this country-right-or-wrong business is getting a little out-of-date. Today we are fighting Communism. Okay. If I'd been alive fifty years ago, the brand of Conservatism we have today would have been damn near called Communism and we should have been told to go and fight that. History is moving pretty quickly these days and the heroes and villains keep on changing parts."
Mathis stared at him aghast. Then he tapped his head and put a calming hand on Bond's arm.
"You mean to say that this precious Le Chiffre who did his best to turn you into a eunuch doesn't qualify as a villain?" he asked…. "And what about SMERSH? I can tell you I don't like the idea of these chaps running around France killing anyone they feel has been a traitor to their precious political system. You're a bloody anarchist."
He threw his arms in the air and let them fall helplessly to his sides.
Bond laughed.
"All right," he said. "Take our friend Le Chiffre. It's simple enough to say he was an evil man, at least it's simple enough for me because he did evil things to me. If he was here now, I wouldn't hesitate to kill him, but out of personal revenge and not, I'm afraid, for some high moral reason or for the sake of my country."
He looked up at Mathis to see how bored he was getting with these introspective refinements of what, to Mathis, was a simple question of duty.
Mathis smiled back at him.
Le Carré attempts to preserve us from full surrender to the topsy-turvy world by making it asymptotic to ourselves. it is a point of evil, or the transvaluation of all morals, that his heroes are always approaching but also always stay just to this side of. In this way, the Cold War becomes a metaphor for life itself.
Fleming's hero actually goes beyond this point, in the very first 007 novel, and comes out the other side. The lack of moral ambiguity for which Bond is so frequently criticized is not due to the fact that he doesn't see it. Rather he sees it and surpasses it.
In order to keep Bond out of this topsy-turvy world, where good is evil and evil good, Fleming is obliged to provide his hero with a series of sufficiently evil villains. First there was SMERSH, the Soviet counterintelligence and murder agency whose job it was to keep the people of the Eastern Block in line through intimidation and fear. After a time, this was in turn replaced by SPECTRE, a world-wide terrorist organization bent on world domination (perhaps an example of art anticipating life).
Le Carré similarly requires the latticework of the Cold War in order to sustain his aesthetic-moral structure, and it is telling that following the collapse of the Soviet empire, his novels have become more simple David versus Goliath narratives with clear good guys (whistleblowers) and clear bad guys (international corporations) — in a sense, more like the traditional Bond narrative.
"So" continued Bond, warming to his argument, "Le Chiffre was serving a wonderful purpose, a really vital purpose, perhaps the best and the highest purpose of all. By his evil existence, which foolishly I have helped to destroy, he was creating a norm of badness by which, and by which alone, an opposite norm of goodness could exist. We were privileged, in our short knowledge of him, to see and estimate his wickedness and we emerge from the acquaintanceship better and more virtuous men."
"Bravo," said Mathis. "I'm proud of you. You ought to be tortured every day…. That was enjoyable, my dear James. you really ought to go on the halls. Now about that little problem of yours, this business of not knowing good men from bad men and villains from heroes, and so forth. It is, of course, a difficult problem in the abstract. The secret lies in personal experience, whether you're a Chinaman or an Englishman."
He paused at the door.
"You admit that Le Chiffre did you personal evil and that you would kill him if he appeared in front of you now?
"Well, when you get back to London you will find there are other Le Chiffres seeking to destroy you and your friends and your country. M will tell you about them. And now that you have seen a really evil man, you will know how evil they can be and you will go after them to destroy them in order to protect yourself and the people you love. you won't wait to argue about it. You know what they look like now and what they can do to people. You may be a bit more choosy about the jobs you take on. You may want to be certain that the target really is black, but there are plenty of really black targets around. There's still penty for you to do. And you'll do it…."
Mathis opened the door and stopped on the threshold.
"Surround yourself with human beings, my dear James. They are easier to fight for than principles."