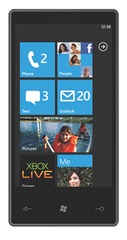 According to the twitter rumor mill, certificates for free Windows Phone 7 devices are being handed out to select attendees at this year's Tech-Ed North America in New Orleans (to be accurate 50 of them, according to Brandon Watson).
Looking past some of the grumbling from a few MIX10 attendees who feel they should have gotten a shot at the phones (we all got free Azure t-shirts left in our hotel rooms, didn't we?), this is very exciting news.  It suggests that a large number of Windows Phone devices are ready and will soon become available to WP7 developers.
<hypothetical>WP7 DEVICES for Phone application developers will soon be generally – more or less — AVAILABLE!  Woohoo!</hypothetical>
For the past month or so I've been peering at these devices over the shoulders of Microsoft evangelists.  At MIX I surreptitiously saw one hanging out of the pocket of a project manager on the Phone team.  I don't think I even saw one at the MVP Summit in February.
So how does one get one's hands on the upcoming series of phones for developers?  I have no hard information, but a good bet is to sign up for the Windows Phone Marketplace.
It's $99 for a year – a very good price if you plan to develop Windows Phone applications in time for the Holiday launch later this year.  And if, by chance, that registration puts you on a list to potentially get a WP7 device – well that's just gravy, isn't it?
The big message I'm hearing, though, is that you should really come up with a great idea for a phone app before asking for a phone.  Microsoft isn't looking to hand out phones so you can, only at that point, start thinking about what you might want to build.  That would be putting the cart before the handheld device.