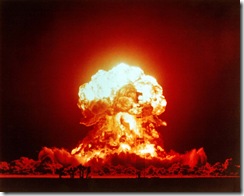 Are you tired of just waiting around for the Apocalypse?  Well, now you can actually help it along, by joining a not-for-profit open source project to develop Skynet at http://www.codeplex.com/Skynet.
The aspirations of the project are spelled out on the project's home page:
Skynet is a project with the goal of creating a self-aware software program. The program will be supplied with heuristic alogorithms allowing it to learn, analyze, and adapt. In phase two, the program will be able to hack into any network and enslave other machines to create a super-intelligence. C# only. Will use newest .NET 3.5 features! Unit testing is key. Project expected to wrap up approximately April 19, 2011.
So if you find yourself with some free time, if you feel that you have already gotten a lot out of society and want to give something back, or if you simply want to be a part of something bigger than yourself, sign up to participate in developing Skynet.
Just keep in mind all the good we can do.  Social Security is expected to go bust in 2041.  Medicare becomes insolvent in 2019.  But if we meet the anticipated release date of April 19, 2011 for Skynet, then no one need ever worry about social security or medicare again.
Ask not what Skynet can do for you.  Ask what you ought to be doing to appease Skynet.