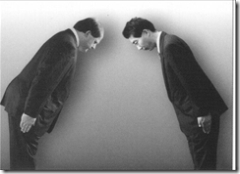 There are currently two conversations going on over the Internet and in other media about civility. The Don Imus discussion tends to be interesting (for instance here and here), but has hardly reached the heart of the matter and seems to be skimming the surface of many issues. Another, concerning anonymous attacks on Kathy Sierra and what to do about it, tends to be unsophisticated and rather silly (try this out http://radar.oreilly.com/archives/2007/04/code_of_conduct.html). Yet both touch on the same matter: what is civility and how do we get some?
I like civility, in the right measure. I especially like it between friends. It also seems like a useful thing in public discourse, because better conversations occur when people restrain themselves a bit and don't go off on the first thing they disagree with. But most of all, I like civility because it makes transgression possible. When everyone curses all the time, it dilutes the whole endeavor. But when people generally restrain themselves, then the properly timed mal mot can be a wonderful and liberating thing.
In all of these discussions, the notion of a "line being crossed" keeps surfacing, with no real investigation of what that line is.
Instead, the discussion about civility tends to break down in terms of are you with us or not, cause I know it when I smell it, and if you can't smell it, then you're not with us. And of course I can smell it, and I am always with us, so where I stand should be clear.
But as at a dinner party when someone lets off a fart, I find that, despite myself, after a first whiff I always end up taking a follow-up whiff — to see if it is gone? to test whether it was merely imagined? to try to identify the culprit? or perhaps simply out of a perverse habit of the connoisseur attempting to pick out the colors that make up the current pallet.

What are these lines of civility that we must not cross? And why does the mere existence of the line make me not only want to cross it, but also to vandalize it a bit?