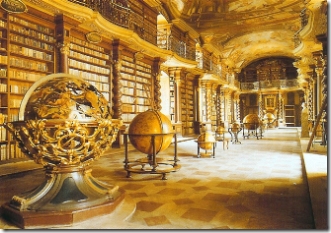 I have been looking through my library shelves, picking out books I once read for signs of what I once saw in them. I no longer remember. All I find are rare page corners delicately turned over. I have never been able to pick up the habit of actually touching ink to my books, which has always struck me as a sort of desecration of the text. Nevertheless, I do find chocolate and nicotine stains on the edges, occassionally, and from books I have not openned since college, I am often rewarded with the foul whiff of stale cigarettes smoked long ago, a scent no doubt mirrored internally as a black smear on my lungs. As I peruse these pages with their foreshortenned corners, a sign from my past self to my future self that here there be something of note, I wonder what I used to know that I no longer know, and what I thought I knew but now I know better. This is one such passage.
In ancient times the painters were supplied with their themes by the poets, though at liberty to indulge in as much decorative play as was decent within the limits of a given theme; later, the failure of the poets to keep their position at the head of affairs forced painters to paint whatever their patrons commissioned, or whatever came to hand, and finally to experiment in pure decoration; now affectations of madness in poets are condoned by false analogy with pictorial experiments in unrepresentational form and colour. So Sacheverell Sitwell wrote in Vogue (August, 1945):
Once again we are leading Europe in the Arts …
He lists the fashionable painters and sculptors and adds:
The accompanying works of the poets are not hard to find … Dylan Thomas, whose texture is as abstract as that of any modern painter … There is even no necessity for him to explain his imagery, for it is only intended to be half understood.
It is not as though the so-called surrealists, impressionists, expressionists and neo-romantics were concealing a grand secret by pretended folly, in the style of Gwion; they are concealing their unhappy lack of a secret.
For there are no poetic secrets now, except of course the sort which the common people are debarred by their lack of poetic perception from understanding, and by their anti-poetic education (unless perhaps in wild Wales) from respecting. Such secrets, even the Work of the Chariot, may be safely revealed in any crowded restaurant or cafe without fear of the avenging lightning-stroke: the noise of the orchestra, the clatter of plates and the buzz of a hundred unrelated conversations will effectively drown the words — and, in any case, nobody will be listening.
— Robert Graves, The White Goddess
Today, the Work of the Chariot has its own flash-enabled web page, as well as a Wikipedia entry. There was even an X-Files episode in which it served as a narrative device.