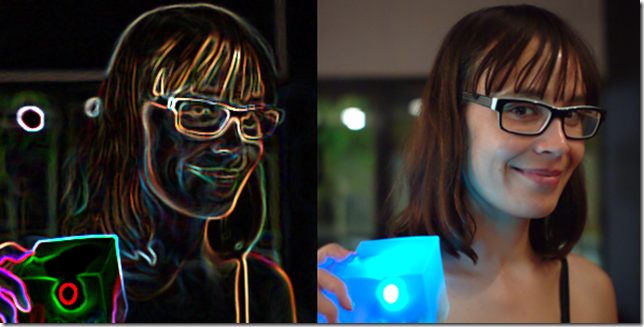 Certain people are bellwethers for creative technology and you want to check in on what they are up to every 3 to 6 months to find out where the zeitgeist of the coding world is headed. I'm thinking of people like Kyle McDonald, James George and Phoenix Perry – folks who, per Jean Cocteau's maxim, manage to stay on the avant-garde even when everyone else has caught up to what had been the avant-garde half a year earlier.
Phoenix is currently teaching physical computing in London. She has spoken and led workshops at most of the leading conferences devoted to emerging technology. You can (and should) keep up with her adventures on her website, phoenixperry.com, and on twitter.
What movie has left the most lasting impression on you?
2046.
What is the earliest video game you remember playing?
Pong.
Who is the person who has most influenced the way you think?
The women of Code Liberation. Over the duration of the organization have radically shifted how I think and who I am. Mentoring younger women in tech has changed who I am. The conversations we have are inspired and open up my mind to a deeper, more compassionate way to live.
When was the last time you changed your mind about something?
This week. The river is different every time you step into it.
What's a programming skill people assume you have but that you are terrible at?
I think it's more a skill level. People assume I'm some super expert but the truth is I'm often relearning my skill set constantly because it's so broad. For example, every single time I look at javascript, it's brand new all over. I'll go delve in an area deeply and the other spaces will move forward and I'm a novice all over again.
What inspires you to learn?
Humility at how little I know.
What do you need to believe in order to get through the day?
I need to believe the people around me value my work and contributions.
What's a view that you hold but can't defend?
I hate Opera. Have no real reason why other than it sounds so annoying to my ears.
What will the future killer Mixed Reality app do?
One that allows me to interact with one experience fluidly across contexts.
What book have you recommended the most?
Memories, Dreams and Reflections by Carl Jung