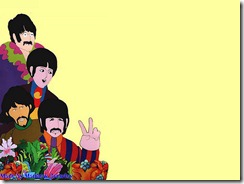 Scott Hanselman, perhaps the current reigning rock star in the Microsoft development world with an incredibly popular blog, Computer Zen, has approximately 17.5 thousand followers on Twitter.  William Shatner, a television actor currently up for an Emmy, has 114 thousand followers.  Colin Meloy, lead singer of a band I like, The Decemberists, has 910 thousand Twitter minions.
As involved as I tend to be in the life-world of software development – and despite its significance in the technological transformation of business and society –  I sometimes have to admit that it is a bit marginal.  Not only are my rock stars different from other people's.  They are also less significant in the grand scheme of things.  By contrast, the biggest rock stars in society are, in fact, rock stars.
While it would be nice if we treated our teachers, our doctors, our nurses like rock stars, I am actually missing President Obama's speech on healthcare tonight in order to play the just released Beatles Rock Band with my family.  According to this glowing review in The New York Times, it is not only the greatest thing since sliced bread – it is possibly better.  [Warning: the phrases cultural watershed and transformative entertainment experience appear in the linked article.]
The game is indeed fun and traces out The Beatles' careers if one plays in story mode.  We had in fact gotten to 1965 before my 12 year old noticed the chronology and exclaimed, "Oh my Gawd.  They are so old.  I thought they were from the 80's or something."
This got me thinking incoherently about the fickle nature of fame which quickly segued into a daydream about sitting in the green room after a concert while my roadies picked out groupies at the door to come in and engage me in stimulating conversation.
Sometime in the 1990's my philosophy department was trying to lure Hubert Dreyfus, then the leading interpreter of poststructuralists like Derrida and Foucault in America, into our university.  Apparently everything was going swimmingly until the haggling started and we discovered that not only did he want the chairmanship of the department but he also wanted a 300K salary and merchandizing rights to any action figures based on his work.   300K is a lot of money in any profession, but it is an uber-rock star salary when you consider that most American academics supplement their meager incomes by selling real estate and Amway.  Negotiations quickly deteriorated after that.
I'm not saying, of course, that Hubert Dreyfus doesn't deserve that kind of scratch.  He had his own groupies and everything.  The problem is simply that our society doesn't value the kind of contributions to the common weal provided by Professor Dreyfus.
Perhaps a video game could change all that.  I could potentially see myself playing an XBOX game in which I kiss-butt as a graduate student (as I recall, I in fact did do that) in a foreign country, write a marginal dissertation, get a teaching position somewhere and then write a counter-intuitive thesis in a major philosophy journal (the kind with at least a thousand subscribers, maybe more) such as "Why Descartes was not a Cartesian", "Why Spinoza was not a Spinozist", "Why Plato was not a Platonist" (true, actually) or "Why Nietzsche was not a Nihilist" (at the beginner level).  With the success of that article, the player would then ditch his teaching position at a state college for a big-name university and gather graduate students around himself.  He would then promote his favorite graduate students to tenure track positions and they would in turn write glowing reviews of all the player's books as well as teach them in all their classes.  It's called giveback, and the game would be called Academic Rock Star.  I really could potentially see myself playing that game, possibly.
There are rock stars in every field, and one might offer suggestions for other titles such as Financial Rock Star, Accounting Rock Star, Presidential Candidate Rock Star,  Microsoft Excel Rock Star, Blogging Rock Star.
Perhaps the reason Microsoft has not picked up on any of these ideas is because – just as we all secretly believe that we will one day be rich – we all secretly believe that becoming a rock star in our own industry or sub-culture is attainable.
No one really believes, however, that he can ever become like The Beatles.  Consequently we settle for the next best thing: pretending to be The Beatles in a video game.