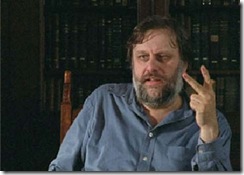 I recently rented Children of Men from the corner Blockbuster and, going through the DVD "extras" after finishing the film, was excited to find something billed as Slavoj Zizek's commentary.
Slavoj Zizek, in case you don't know him, is a Slovenian intellectual and provocateur who made his mark by analyzing popular culture, especially film noir, in a way that wasn't completely cheesy.  He has pushed on in the double-naughts to generally pissing off his fan-base by doing what he always does: saying things no one expects him to say.  You may remember him as one of the few big-name intellectuals (besides Barry Smart) willing to contribute to The Matrix and Philosophy, the book which started off the whole popular culture and philosophy series.  His essay is the concluding piece in the anthology, and in typical Zizek fashion, he starts of by discussing how misguided he finds all the attempts to find deep meaning in what is basically a 90 minute animated comic book.
Zizek's commentary to Children of Men does not disappoint.  He claims that Children of Men is actually a remake of Y tu mamá también, but without the sex.  He continues with a rambling discussion of the sixty-eighters.  Probably the only unexpected thing about the seven minute commentary is its brevity — Zizek's loquacity is legendary.
For some reason, I had initially thought that the producers of the DVD had hit upon the brilliant notion of replacing the ubiquitous and generally tedious convention of having a "director's commentary" with a rather clever conceit: placing an intellectual before the screen and recording him as he talks about whatever comes to his mind.
I remember when one of the early selling points of DVDs was that they could hold much more content than videos, and one of the first things that DVD producers tried out was adding the director's commentary.  It certainly seemed like a good idea at the time.  Who wouldn't want to hear Francois Truffaut discussing 400 Blows, or Godard explaining Masculin – Feminin?  Unfortunately, what we ended up getting were things like Penny Marshal discussing what she ate on the set of A League of their Own and Michael Lembeck's commentary for The Santa Clause 2.  In The Lord of the Rings DVD, among others, an interesting twist was introduced by having the film's actors provide commentary, and it was certainly interesting to listen to Sir Ian McKellen tell his theater stories whenever no one else had anything to contribute.  But even Sir Ian didn't have enough material to fill 11 hours.
Besides perhaps David Mamet, who is an intellectual in his own right, there aren't many directors whose opinions I really want to hear concerning … well … anything, and while vocation makes films a seemingly relevant topic for their discourse, experience has shown that most directors are not especially handy at even this.  And actors even less so.
What I would really like to experience is, say, Slavoj Zizek and Barry Smart talking for 90 minutes over a showing of the Matrix, ala Mystery Science Theater;  Christopher Hitchens doing the commentary for The Manchurian Candidate (the original, not the remake); Steven Pinker and Noam Chomsky discussing My Dinner With Andre.
Perhaps the problem is that the country which hosts the world's largest movie industry doesn't happen to have a particularly strong tradition of public intellectuals the way, say, Britain, France and Germany do.  When I was living in the south of France for a short while I regularly saw, squeezed in between dubbed versions of Dragon Ball Z and Married With Children, discussion shows in which really smart people were asked about important matters, and they were given enough time to provide full and interesting answers to the questions posed.  (It was also on one of these shows that I discovered that Sigourney Weaver is not only really smart, but also speaks excellent French.) 
After watching a few of these talking head pieces, I began to wonder why we don't have similar public forums in America.   After pondering it some more, I realized that the really serious question is: even if we had shows like that, who would we invite to appear on them?  There aren't really that many people in America, despite its size, generally considered to be smart people, and among these even fewer whose ideas we think are likely to change our opinions of things.  Perhaps this is the egalitarian streak in American public discourse — we all consider ourselves to be adequately intelligent to form our own opinions, without help from anyone else.  Consequently, when it comes time to look for interesting opinions, we don't turn to our intellectuals.  Instead, we turn to actors, to opinion-shapers like Oprah and, in a pinch, when no one else is available, to twice-cooked hacks like Thomas Friedman.
Which is really fine with me.  I am more than happy to surrender our public discourse to entertainers and hacks.  I rarely read the newspaper, anyway.  What I am more concerned about is this: now that we've got all the movie actors busy discussing globalization and third-world debt, who are we going to get to do our DVD commentaries for us?