The new beta tools for Windows Phone have just come out.  If you haven't previously downloaded the April CTP Tools, you are in great shape.  Just download from the link above and you should be good to go.
If you have previously installed the CTP, however, there is some uninstalling to do first.  Moreover, a peculiarity of the CTP was that it worked only with the Blend 4 CTP and did not work with the Blend 4 RTM.  This entails that you will also want to uninstall the Blend 4 CTP if you have been holding out all this time.
The Blend / WP7 story has also gotten more interesting.  The dev tools linked above include an edition of Blend called Blend for Windows Phone beta (sort of the equivalent of Visual Studio Express).
If you have a subscription to MSDN, you now need an Ultimate subscription to get Blend 4 (as part of the Expression Studio Ultimate).  Blend 3 used to be available with the Premium subscription but, alas, no longer.  You can get the Expression 4 Studio Trial here.
However, the new developer tools do not work with Expression Blend 4.  They only work with Blend for Windows Phone beta.  But at least now you can use the Blend 4 RTM for your other Silverlight and WPF projects.
Uninstall
Assuming you have the Blend 4 RC and the April CTP Refresh of the Windows Phone dev tools, you will want to uninstall the following:
Microsoft Expression Blend 4 CTP
Microsoft Windows Phone Developer tools ENU
[Reboot your OS]
Microsoft Expression Blend 4 Add-in Preview 2 for Windows Phone
Expression Blend SDK RC for Silverlight 4
Expression Blend SDK RC for .NET 4
That seemed to do it for me.  In the process several other Phone related components were automatically uninstalled including:
Microsoft Windows Phone Developer Resources
Microsoft XNA Game Studio 4.0 Windows Phone Extensions
Windows Phone Emulator x64 – ENU
Reinstall
From here I
installed the RTM for Blend 4 (just so I can use it for Silverlight 4 projects). 
installed the Windows Phone Developer Tools beta.
What's Changed
1. First of all, the emulator has a new look.  It seems a little smaller to me.  It also has a flatter look, and the black has been replaced with a gray/silver chrome.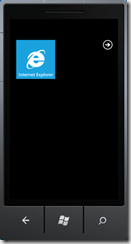 2. If you were using an unlocked ROM for your development, you are back to the regular unlocked ROM until the XDE gurus get around to unlocking the new one.  You can read this XDE forum thread to learn more.
3. Blend 4 RTM appears to be useless for phone development.  You will need to use the Blend for Windows Phone beta for your integration and animation work.  I tried, of course, to open a project built in "Blend Express" with Blend 4 RTM, but got a message that I didn't have the correct version of the WP7 Tools installed.
4. On the flip side, Visual Studio (Premium or Ultimate) now allows you to add service references.  Previously you had add references in Visual Studio 2010 Express and then copy them into your VS 2010 project.  This is much nicer.
5. Third party templates are now broken.  I've been using Laurent Bugnion's MVVM templates and now understand why he has been putting off upgrading them. 
6. All your current phone apps will need to be fixed because they will be broken.  The Windows Phone team moved lots of assemblies around and reorganized namespaces.  You'll need to go through your apps and fix your assembly references as well as the namespaces in XAML as well as in your code.  Jaime Rodriguez has blogged on the steps necessary to repair your apps.  His blog is currently getting slammed – so if you can't get through, just keep trying.