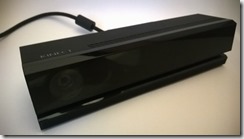 Today the Kinect SDK 2.0 – the development kit for the new, improved Kinect version 2 – went live.  You can download it immediately.
Kinect for Windows v2 is now out of its beta and pre-release phase.
Additionally, the Windows Store will now accept apps developed for Kinect. If you have a Kinect for Windows v2 sensor and are running Windows 8, you will be able to use it to run apps you've downloaded from the Windows Store.
And if you don't have a Kinect for Windows v2? In that case, you can use the Kinect sensor from your XBox One and – with a $50 adapter that Microsoft just released – turn it into a sensor you can use with your Windows 8 computer.
You basically now have a choice of purchasing a Kinect for Windows v2 kit for $200, or a separate Kinect for Xbox One for $150 and an adapter for $50.
Alternatively, if you already have the sensor that came with your Xbox One, Microsoft has effectively lowered the entry bar to $50 so you can start trying the new Kinect:
1. Buy the Kinect v2 adapter.
2. Download the SDK to your 64-bit Windows 8 machine.
3. Detach the Kinect from your XBox One and plug it into your computer.