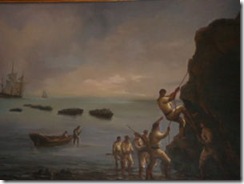 Today I have been working through the Microsoft QuickStarts for Silverlight, which include walkthroughs as well as code source.  Here are the high level topics available:
E. Working with Data Collections in Silverlight — this useful QuickStart explains data binding and the DataTemplate.  No obvious errors, but a few lacunae.
Life will go much easier if you name your project Quickstart_Bookstore.
The ObservableCollection type belongs to the namespace System.Collections.ObjectModel.