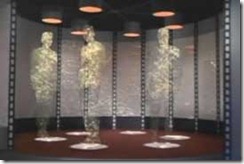 I'm always surprised at the rapid rate of technological progress.  I often sit and watch my son play through Halo, Call of Duty, or Rock Band and get nostalgic for the simpler days when I played Adventure, Kaboom and Pitfall.
Imagine my amazement, then, when I received the following job posting for a Teleport Engineer in my email:
Requisition #
116684BR

Posting
Job Title
Teleport Engineer

TimeWarner
Division
Turner Broadcasting

Location
United States – Georgia – Atlanta

Position
Type
Full Time

Salary Grade_TBS
N74

Referral Bonus Eligible
No

Referral Bonus Amount _TBS
0

Posting Job Description

Qualifications: 3 to 5 years of experience working as a maintenance engineer in a
earth station and/or broadcast facility.
3 to 5 years experience working with RF, high voltage, emergency power systems and high power RF amplifiers.
Two to four year technical degree, electronics related (or equivalent education/experience/training). Excellent customer services skills with attention to detail.
Demonstrated organizational skills and ability to prioritize and multi-task in a high-stress environment.
A sense of urgency in solving customer requests to ensure timely resolution.
Strong verbal and written communication skills in order to communicate with customers, peers and vendors.
Demonstrated ability to work in a team based environment to ensure 24x7x365 support of our customers.
Duties: Maintenance – troubleshooting, repair, calibration and preventative maintenance of equipment and systems at the teleports. Maintenance is done to ensure that the TBS customers have uplink and downlink resources available when required and to keep outage time to a minimum. In addition, maintenance is imperative to ensure that the teleport transmission and receive systems are compliant; requirements set forth by the Federal Communications Commission (FCC), the satellite providers and OSHA.
Projects – participation in the planning, installation and integration of new or replacement equipment and systems. May act in lead role on small projects.
Quality Control – ability to ensure outgoing, and incoming signals and content are compliant with standards set forth by the FCC, the satellite providers, TBS and good engineering practices. In addition this responsibility includes quality control of installations equipment and documentation utilized by the teleports.
Customer Service – provides the highest quality of customer service to our primary customers – Teleport operations, Distribution technology, CNN satellites/SNG, TEN and the TBS networks – by responding to requests in a timely manner.
Documentation – thoroughly documents problems and issues in the operations log. Timely and accurate completion on assigned projects including wire
numbers, systems documentation, drawings, time sheets, time tracking and work orders.

Turner Broadcasting System, Inc. and its subsidiaries are Equal Opportunity Employers.
And here I've been waiting for a job as a flying car mechanic.