Last Thursday, Microsoft Evangelists Glen Gordon and Joe Healy held an all-day Silverlight firestarter in Atlanta.  It was a great event and will be travelling to Tampa, FL on 2/22 and Miami, FL on 2/24.
The real fun for me was what occurred afterwards.  Glen organized an Ask the Silverlight Experts panel in the backroom of a nearby sports bar.  After the 'Bob Muglia Imbroglio' – I wonder if that will ever catch on -  it was refreshing to hear people whose careers are deeply tied to the future of Silverlight actually speak candidly about it.  MVPs are typically cautious creatures, anxious not to speak out of turn, contrary to Microsoft strategy, or in violation of their NDAs with MS.  Following the Bob Muglia story, everyone is additionally anxious to not be the next person to torpedo Silverlight.
The panel was made up of Sergey Barskiy (Data MVP), Shawn Wildermuth (Data MVP, Silverlight Trainer), Jeremy Likness (Silverlight MVP, author of Sterling), Joel Ivory Johnson (WP7 Dev MVP) and Rob Schiefer (co-author of an upcoming WP7 book).  I was there representing the local Silverlight User Group which I run with Corey Schuman.   Jim Wooley (VB MVP) and Steve Porter (CAD MVP) were in the audience.
The first question asked, and the one that dominated the rest of the night, was to the effect of "What's up with Silverlight and HTML5?"
I had originally planned to give a recap of all the arguments and theories but realized after attempting to do this for about an hour that I mostly just remember my own arguments and have, in my memory, distorted everyone else's.
Then I came across this beautiful photo by Philip-Lorca diCorcia — who currently has an exhibit at the David Swirner gallery in New York City if you get a chance to visit – which summarizes everything that was said that night much better than I can.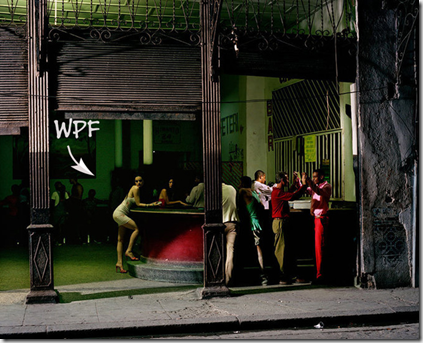 In case it isn't clear, the two dudes high-fiving each other on the right are Silverlight 5 and HTML5.