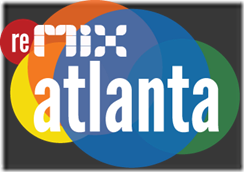 If you have ever wondered how a major technical event gets thrown together, I'll tell you.
ReMIX Atlanta started with a conversation in which Corey Schuman suggested that it would be a good idea to do a ReMIX event like they do in Boston and Chicago every year.  The appeal for us was that MIX is totally unlike every other Microsoft sponsored event.  In turn, every community event in Atlanta tends to model itself on MS conferences like the PDC.  Wouldn't it be fun, we thought to ourselves, to do something different.
Meanwhile in another part of the world, Richard Campbell and Carl Franklin, the hosts of the .NET Rocks! Podcast (and producers of Hanselminutes, I believe) were planning to bring their roadshow to Atlanta on May 7th.
Glen Gordon and Murray Gordon, Microsoft Evangelists in Atlanta, suggested that we associate the two events and do some cross-promoting.  So an invitation went out and on March 25th, a bunch of guys got together at a Fuddrucker's and started laying out plans.
The first thing was trying to scope the event.  Should we go small or go big?  Corey and I wanted to do something really new and different and ambitious for the Atlanta area so we pushed for something big – 400 attendees big – and we got our way.
Having pushed for the idea, we were now on the line for making it happen, of course.  We next had to find a venue for both the .NET Rocks roadshow as well as the ReMIX that could accommodate 400 people.  Cliff Jacobson (Cliff helps to run the MS Pros user group and helps out lots of other user groups in innumerable ways) got on the phone that following Monday and just started making calls.  It turned out to be a bad time of year to plan an event.  We were competing against proms and weddings.  We had used colleges and universities for events in the past, but the main problem there is that they either do not have the space or have weekend classes or are on the edges of Atlanta making them hard to get to.  Besides, we wanted to use the same space for both the .NET Rocks! roadshow as well as the ReMIX event.  Finally the Marriott at the Perimeter came through for us (and have continued to work with us every step of the way to get us what we needed for a fantastic conference).
So the next question was: how do we pay for this?  We decided to charge $25 dollars initially as a way to cover our costs for a bare minimum conference.  This doesn't even cover lunch, but at least the Perimeter is a nice area and there are lots of excellent restaurants within walking distance.  (If you've ever wondered, getting conference space with catering is expensive, yes it is.)
Now we needed to promote the event.  I contacted my favorite web designer, Dennis Estanislao, part of our Minus Five team from MIX (there's an embarrassing picture out there somewhere of our Minus Five outing), and he put together a design concept and website for the event in three days.
So next – what were we going to present at the conference?  You may think that this should have been our first concern – we did have a few MIX inspired ideas – but the truth is we weren't ready to start recruiting speakers until we knew we could actually have an event.  Silverlight 4 and Blend 4 were just about to come out, so we knew we wanted to do that.  Then there's Windows Phone 7 – we decided that we needed to do a whole track on Windows Phone 7.  So for the third track?  Believe it or not, the first suggestion was to do a catchall track for RIA Services, Sharepoint 2010, SQL Server Reporting Services and so on.
But that wouldn't be MIX-like, would it?  We were sitting around with Sean Gerety and Dennis who began describing an Abbott and Costello routine they had developed around common misunderstandings between developers and designers.  We were on the floor laughing and knew immediately that that should be in the conference.  Very quickly we realized that we wanted to do an entire track on the sorts of issues they were pointing out.  It's a Kumbaya kindof idea, but developers really need designers to make their applications shine, while designers need developers to make their applications functional.  And yet these are two fields that simply don't talk to each other and even have a bit of a chip on their shoulders about it.  We knew we wanted to break down those boundaries with the ReMIX conference.
And so the User Experience track was born.
Now we needed speakers.  We wanted the best and we wanted to include excellent speakers that the Atlanta community hasn't seen before.  Back on the phone we all went and before we knew it we had speakers from Alabama and Tennessee committed to speaking at ReMIX.
We then got a lucky break.  Richard Campbell was talking to Brandon Watson, the new Director of Developer Experience for the Windows Phone 7 team, about being our keynote speaker.  In the process, Brandon offered to provide us with hand-picked speakers for the entire Windows Phone track.
We put out the registration site http://remixatlanta.eventbrite.com (Eventbrite turns out to be amazing – Brendon Schwartz recommended that we use it and he was right!), asked all the leaders of the user groups in Atlanta to promote the event to their members, and within a few days had a hundred people register.  We were excited.
Now we really had a big event on our hands.  We needed money to make it better.  With only three weeks before the event, everyone started hitting their contacts and we reached out for sponsors.  We were worried that no one would even respond to our emails.
Instead, lots of companies have come through at the Platinum level (we honestly thought only one or two would offer to sponsor us at the Platinum level).  Richard Campbell hooked us up with the great people at DevExpress; Doug Ware reached out to Matrix; Veredus Staffing even added a comment to our website asking if we needed sponsors.  Very quickly Dunn Training, Agilitrain, the wonderful Bethany Jones Vananda of Wintellect, my own company Sagepath, Stacy Koehn at Slalom and Emily Parker and Telerik all offered to help sponsor the ReMIX – on very short notice, let's remember.
Dan Attis set up a non-profit bank account to put all these pledged funds into.  I can't thank him enough for that.  We'd been talking about setting up an account like this for well over a year, and Dan finally got it done just in time for ReMIX.
The Atlanta Web Developers Group: http://www.awdg.org/ and the Atlanta's Interaction Design and User Experience Community: http://ixdaatlanta.ning.com/ are going to help us with the event (yay designers!) and be present in The Commons to talk about design issues.  J. Cornelius, leader of the AWDG, will even stick around to give tips on improving your apps – so bring your laptops with your current web, windows or Silverlight project and get a free appraisal from an expert.
What is The Commons, you ask?  The Commons is a concept a bunch of us first encountered at MIX.  While learning new information at conference sessions is valuable, the greatest value one can get out of a conference is a chance to make new contacts and expanding your network.  The Commons is a place that facilitates that.  We're going to make it extremely comfortable and inviting.  It is where you will want to be when you want to take a break – and really, who can sit through five talks in one day – you need to pace yourself.  So we are setting up The Commons as your personal retreat.  Here developers will get a chance to talk to designers (I know developers who have never even met designers before).  Designers will get a chance to reevaluate their opinion of Microsoft products.  People who are job hunting, or just thinking about job hunting, will get some casual time with recruiters to find out what the market is really like now.  We'll have an XBOX 360 there for a little bit of RockBand action.  Software vendors will demonstrate their products (which Silverlight charting control should you use? – you'll get a chance to compare them side-by-side from the vendors themselves).
Sean Gerety has been the biggest proponent of The Commons concept and is doing the majority of the concept work.  It is going to be fantastic.  He has also been putting together the UX track and has the most amazing soft skills I have ever encountered.
If you haven't picked up your ticket to ReMIX Atlanta and the .NET Rocks roadshow, yet, please do so at: http://remixatlanta.eventbrite.com
The Roadshow is a free event on Friday night.  Richard and Carl are giving out lots of software licenses and books, and anyone who has ever listened to their podcast will know how fun these guys are.  Think Prairie Home Companion for geeks and without so many jokes about Minnesota.  There will be food and refreshments.
And that, as Paul Harvey would say, is the rest of the story.