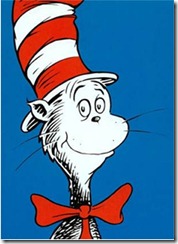 … I'm the cat in the hat.
While on vacation in Los Angeles, I received an exciting email from Microsoft informing me that I have been given the 2010 MVP award in Client App Dev.
This is an immense honor and a remarkable vote of confidence from Microsoft which I hope to live up to in the coming year.  Hats off to the members of the Atlanta developer community, my local DE Glen Gordon, friends I have met at conferences and Magenic employees past and present who have challenged and encouraged me to always work towards being a better developer.  Of course, great thanks to my wife for her indulgence and patience those many times I have stayed up all night working through the latest MSDN tutorial, polishing a technology presentation or answering Microsoft forum questions.  I couldn't have done it without you.