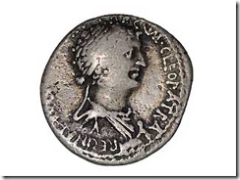 Concerning history, Pascal wrote "Le nez de Cléopatre: s'il eût été plus court, toute la face de la terre aurait changé." Numistmatics have recently begun to challenge this precept, however, with the discovery of less flattering profiles of the Egyptian queen. Earlier this year, academics at the University of Newcastle announced that by studying an ancient denarius, they arrived at the conclusion that the Queen of the Nile was rather thin-lipped and hook-nosed. Looking at pictures of the denarius in question, however, one cannot help but feel that perhaps the coin itself has undergone a bit of distortion over the years.
Given that history distorts, it seems peculiar that we would place so much faith in the clarity of twenty-twenty hindsight. Perhaps this is intended as a contrast with the propensity to error that befalls us when we attempt proclamations of foresight. Yet even the clarity of hindsight regarding recent events is often, in turn, contrasted with the objectivity achieved when we put a few hundred years between ourselves and the events we wish to put under the investigative eye. Is there an appropriate period of time after which we can say that clarity has been achieved, shortly before that counter-current of historical distortion takes over and befuddles the mind, like the last beer too many at the end of a long night?
Looking back is often a reflexive act that allows us to regret, and thus put away, our past choices. Usually, as Tolstoy opines in his excursis to War and Peace, distance provides a viewpoint that demonstrates the insignificance of individual actions, and the illusory nature of choice. It is only in the moment that Napolean appears to guide his armies over the battlefield to certain victory. With the cool eye of recollection, he is seen to be a man merely standing amid the smoke of battle giving instructions that may or may not reach their destinations, while the battle itself is simply the aggregation of tens of thousands of individual struggles.
And yet, in the cross-currents of history looking forward and historians looking backward, one occassionally finds eddies in which the hand of history casts our collective fates with only a handful of lots. Such an eddy occurred in late 2000, and, in retrospect, it changed the face of the world. With an oracular — and possibly slightly tipsy — pen, the late Auberon Waugh was there to capture the moment for posterity:
Many Europeans may find it rather hurtful that the United States has lost all interest in Europe, as we are constantly reminded nowadays, but I think it should be said that by no means all Americans have ever been much interested in us. Only the more sophisticated or better educated were aware of the older culture from which so many of their brave ideas about democracy derived.
Perhaps the real significance of the new development is that Americans of the better class have been driven out of the key position they once held, as happened in this country after the war, leaving decisions to be made by the more or less uneducated. We owe both classes of American an enormous debt of gratitude for having saved us from the evils of Nazism and socialism, and we should never forget that. It is no disgrace that George W. Bush has never been to Europe; 50 per cent of Americans have never been abroad. They have everything they need in their own country, but their ignorance of history seems insurmountable.
Everything will be decided in Florida, but it is too late to lecture the inhabitants about the great events of world history which brought them to their present position in world affairs. Florida is a strange and dangerous place to be. It has killer toads and killer alligators. An article in the Washington Post points out that it is also the state where one is most likely to be killed by lightning. Most recently a man in south central Florida was convicted of animal abuse for killing his dog because he thought it was gay. The state carried out a long love affair with the electric chair which it stopped only recently, and somewhat reluctantly, in the face of bad publicity when people's heads started bursting into flames.
George W. Bush's considerable experience of the death penalty in Texas may help him here, but I feel we should leave the Americans to make up their own minds on the point. If we had a choice in the matter, I would like to think we would all choose the most venerable candidate, Senator Strom Thurmond (or Thurman if you follow caption writers in The Times) who is 97 years old. If the other candidates cannot reach a decision by Inauguration Day on January 20, he will swear the oath himself. These young people may have many interesting features, of course, and Al Gore's hairstyle might give us something to think about, but one wearies of them after a while.